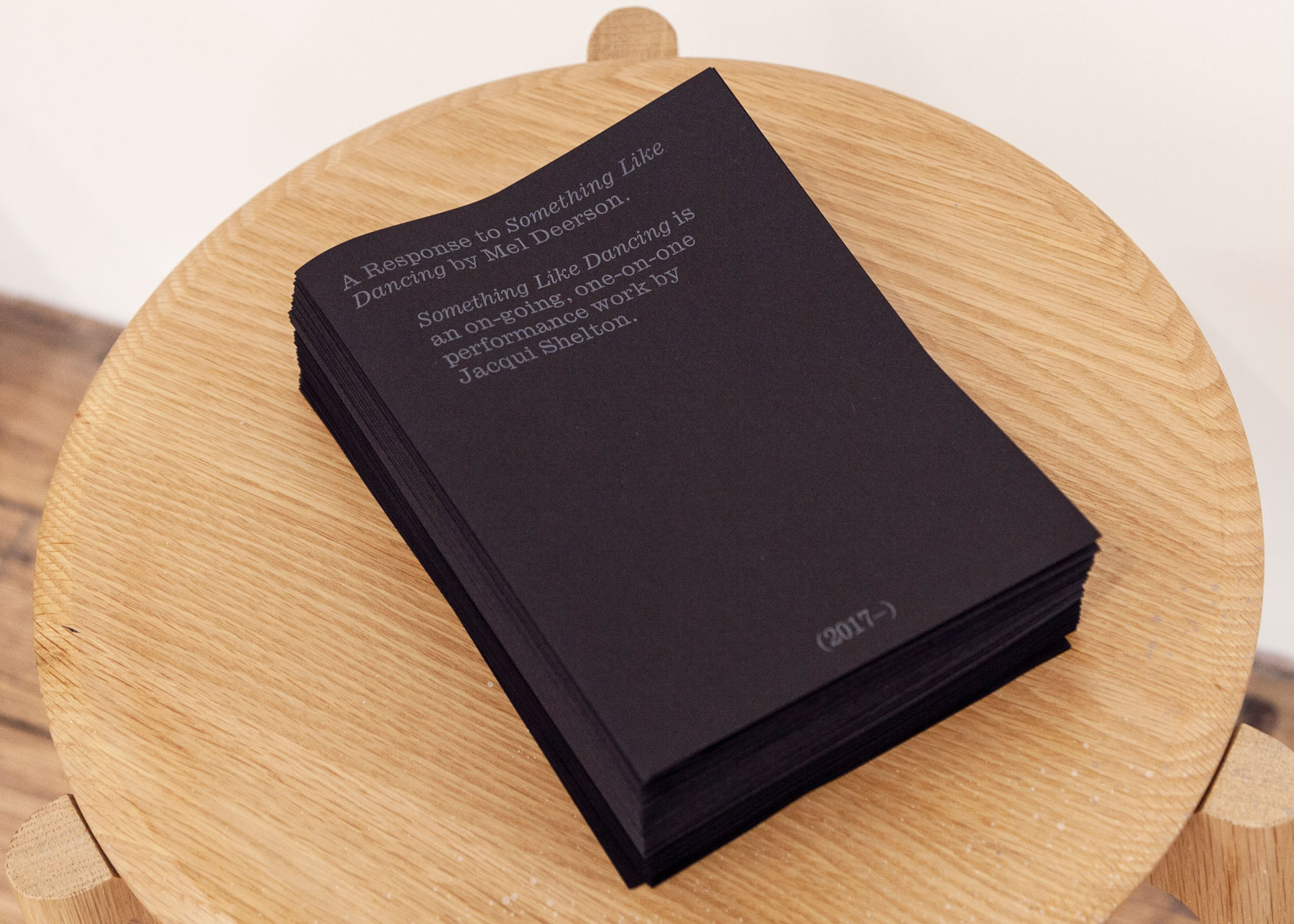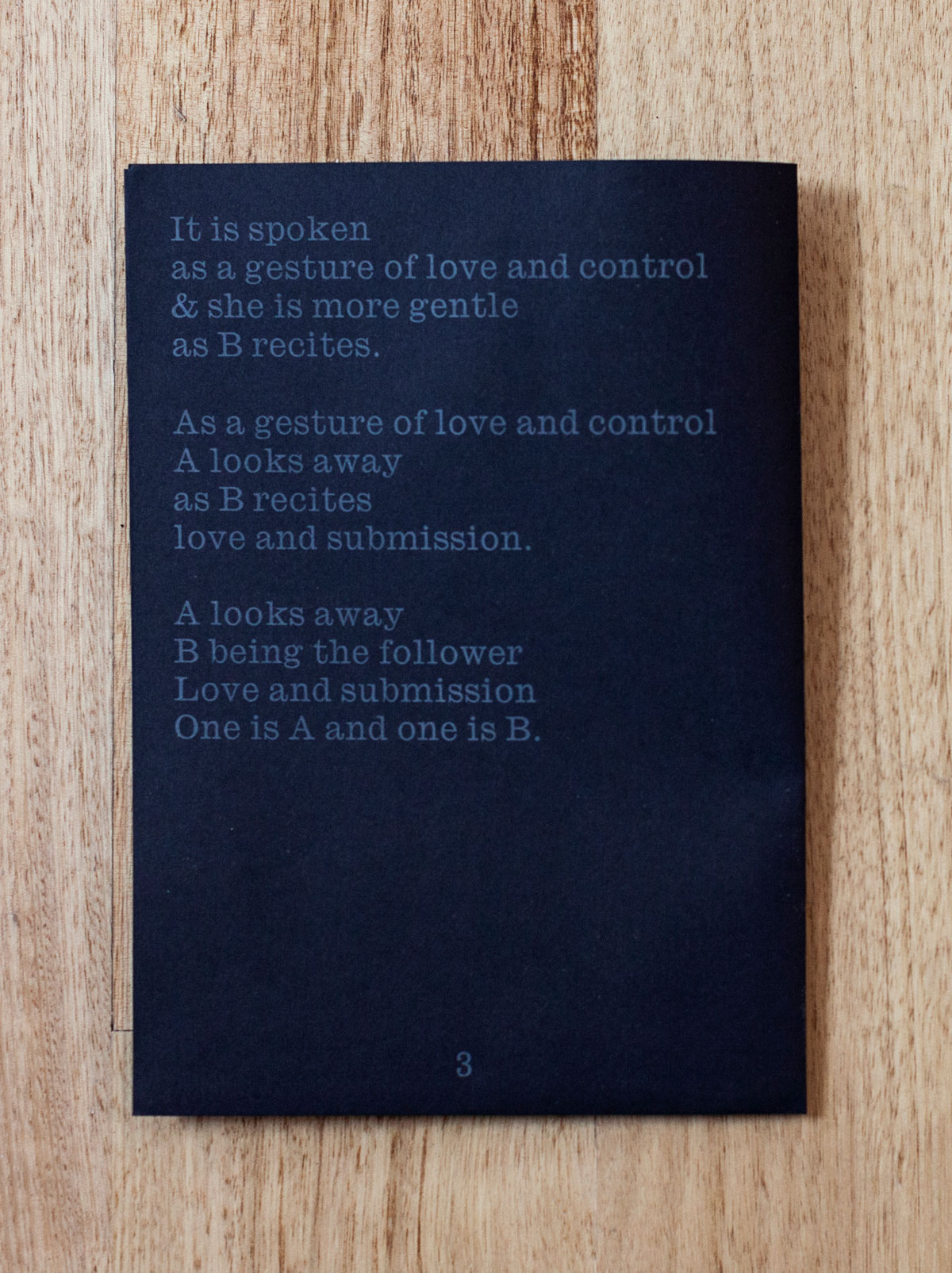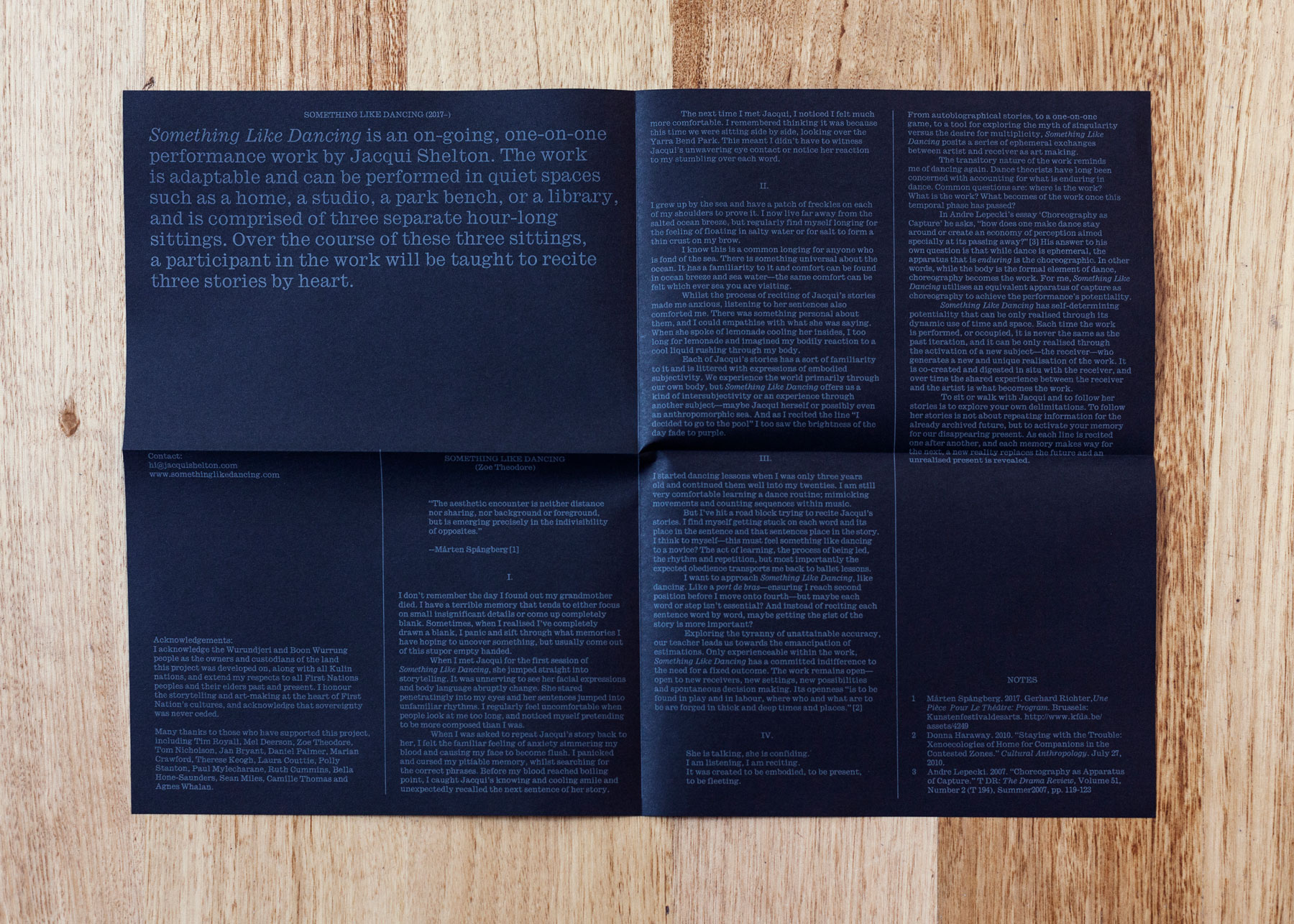 A Response to Something Like
Dancing by Mel Deerson.
(2017–)
One is A and one is B,
A being the leader
B being the follower
as per convention.

A being the leader,
she corrects.
As per convention,
B can only sometimes speak.

she corrects
a lesson learned by rote.
B can only sometimes speak
and she is cheating invisibly.
1
A lesson learned by rote
at a wooden table
and she is cheating invisibly
by writing on it.

At a wooden table
that is a page –
by writing on it,
the material is mastered.

That is a page.
It is spoken.
The material is mastered
& she is more gentle.
2
It is spoken
as a gesture of love and control
& she is more gentle
as B recites.

As a gesture of love and control
A looks away
as B recites
love and submission.

A looks away
B being the follower
Love and submission
One is A and one is B.
3
Something Like Dancing (2017–)
Something Like Dancing is an on-going, one-on-one performance work by Jacqui Shelton. The work is adaptable and can be performed in quiet spaces such as a home, a studio, a park bench, or a library, and is comprised of three separate hour-long sittings. Over the course of these three sittings, a participant in the work will be taught to recite three stories by heart.
Contact:
hi@jacquishelton.com
www.somethinglikedancing.com
(Documentation images)
Acknowledgements:
I acknowledge the Wurundjeri and Boon Wurrung people as the owners and custodians of the land this project was developed on, along with all Kulin nations, and extend my respects to all First Nations peoples and their elders past and present. I honour the storytelling and art-making at the heart of First Nation's cultures, and acknowledge that sovereignty was never ceded.
Many thanks to those who have supported this project, including Tim Royall, Mel Deerson, Zoe Theodore, Tom Nicholson, Jan Bryant, Daniel Palmer, Marian Crawford, Therese Keogh, Laura Couttie, Polly Stanton, Paul Mylecharane, Ruth Cummins, Bella Hone-Saunders, Sean Miles, Camille Thomas and Agnes Whalan.
SOMETHING LIKE DANCING,
(Zoe Theodore)
"The aesthetic encounter is neither distance nor sharing, nor background or foreground, but is emerging precisely in the indivisibility of opposites."

--Mårten Spångberg [1]
I
I don't remember the day I found out my grandmother died. I have a terrible memory that tends to either focus on small insignificant details or come up completely blank. Sometimes, when I realised I've completely drawn a blank, I panic and sift through what memories I have hoping to uncover something, but usually come out of this stupor empty handed.
When I met Jacqui for the first session of Something Like Dancing, she jumped straight into storytelling. It was unnerving to see her facial expressions and body language abruptly change. She stared penetratingly into my eyes and her sentences jumped into unfamiliar rhythms. I regularly feel uncomfortable when people look at me too long, and noticed myself pretending to be more composed than I was.
When I was asked to repeat Jacqui's story back to her, I felt the familiar feeling of anxiety simmering my blood and causing my face to become flush. I panicked and cursed my pitiable memory, whilst searching for the correct phrases. Before my blood reached boiling point, I caught Jacqui's knowing and cooling smile and unexpectedly recalled the next sentence of her story.
The next time I met Jacqui, I noticed I felt much more comfortable. I remembered thinking it was because this time we were sitting side by side, looking over the Yarra Bend Park. This meant I didn't have to witness Jacqui's unwavering eye contact or notice her reaction to my stumbling over each word.
II
I grew up by the sea and have a patch of freckles on each of my shoulders to prove it. I now live far away from the salted ocean breeze, but regularly find myself longing for the feeling of floating in salty water or for salt to form a thin crust on my brow.
I know this is a common longing for anyone who is fond of the sea. There is something universal about the ocean. It has a familiarity to it and comfort can be found in ocean breeze and sea water—the same comfort can be felt which ever sea you are visiting.
Whilst the process of reciting of Jacqui's stories made me anxious, listening to her sentences also comforted me. There was something personal about them, and I could empathise with what she was saying. When she spoke of lemonade cooling her insides, I too long for lemonade and imagined my bodily reaction to a cool liquid rushing through my body.
Each of Jacqui's stories has a sort of familiarity to it and is littered with expressions of embodied subjectivity. We experience the world primarily through our own body, but Something Like Dancing offers us a kind of intersubjectivity or an experience through another subject—maybe Jacqui herself or possibly even an anthropomorphic sea. And as I recited the line "I decided to go to the pool" I too saw the brightness of the day fade to purple.
III
I started dancing lessons when I was only three years old and continued them well into my twenties. I am still very comfortable learning a dance routine; mimicking movements and counting sequences within music.
But I've hit a road block trying to recite Jacqui's stories. I find myself getting stuck on each word and its place in the sentence and that sentences place in the story. I think to myself—this must feel something like dancing to a novice? The act of learning, the process of being led, the rhythm and repetition, but most importantly the expected obedience transports me back to ballet lessons.
I want to approach Something Like Dancing, like dancing. Like a port de bras—ensuring I reach second position before I move onto fourth—but maybe each word or step isn't essential? And instead of reciting each sentence word by word, maybe getting the gist of the story is more important?
Exploring the tyranny of unattainable accuracy, our teacher leads us towards the emancipation of estimations. Only experienceable within the work, Something Like Dancing has a committed indifference to the need for a fixed outcome. The work remains open—open to new receivers, new settings, new possibilities and spontaneous decision making. Its openness "is to be found in play and in labour, where who and what are to be are forged in thick and deep times and places." [2]
IV
She is talking, she is confiding.
I am listening, I am reciting.
It was created to be embodied, to be present,
to be fleeting.
From autobiographical stories, to a one-on-one game, to a tool for exploring the myth of singularity versus the desire for multiplicity,
Something Like Dancing posits a series of ephemeral exchanges between artist and receiver as art making.
The transitory nature of the work reminds me of dancing again. Dance theorists have long been concerned with accounting for what is enduring in dance. Common questions are: where is the work? What is the work? What becomes of the work once this temporal phase has passed?
In Andre Lepecki's essay 'Choreography as Capture' he asks, "how does one make dance stay around or create an economy of perception aimed specially at its passing away?" [3] His answer to his own question is that while dance is ephemeral, the apparatus that is enduring is the choreographic. In other words, while the body is the formal element of dance, choreography becomes the work. For me, Something Like Dancing utilises an equivalent apparatus of capture as choreography to achieve the performance's potentiality.
Something Like Dancing has self-determining potentiality that can be only realised through its dynamic use of time and space. Each time the work is performed, or occupied, it is never the same as the past iteration, and it can be only realised through the activation of a new subject—the receiver—who generates a new and unique realisation of the work. It is co-created and digested in situ with the receiver, and over time the shared experience between the receiver and the artist is what becomes the work.
To sit or walk with Jacqui and to follow her stories is to explore your own delimitations. To follow her stories is not about repeating information for the already archived future, but to activate your memory for our disappearing present. As each line is recited one after another, and each memory makes way for the next, a new reality replaces the future and an unrealised present is revealed.
NOTES
Mårten Spångberg. 2017. Gerhard Richter, Une Pièce Pour Le Théâtre: Program. Brussels: Kunstenfestivaldesarts. http://www.kfda.be/assets/4249
Donna Haraway. 2010. "Staying with the Trouble: Xenoecologies of Home for Companions in the Contested Zones." Cultural Anthropology. July 27, 2010.
Andre Lepecki. 2007. "Choreography as Apparatus of Capture." T DR: The Drama Review, Volume 51, Number 2 (T 194), Summer 2007, pp.119-123